Well, I'm in Las Vegas gearing up for Vegoose. There has been some news blurbs about Phish in the past week or so.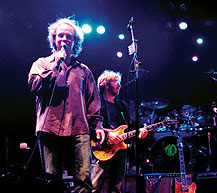 My favorite member of Phish...
Page is playing with the Spam All Stars
. Damn, do I miss Leo! You can see him next week in NYC at Irving Plaza.
Phish's 1995 New year's Eve concert is being released
as a new CD. Rolling Stone actually called that show one of the "Greatest Live Shows: in the 1990s. Here's the track listing:
Disc 1
1. Punch You In The Eye
2. The Sloth
3. Reba
4. The Squirming Coil
5. Maze
6. Colonel Forbin's Ascent
7. Fly Famous Mockingbird
8. Shine
9. Fly Famous Mockingbird
10. Sparkle
11. Chalk Dust Torture

Disc 2
1. Audience Chess Move
2. Drowned
3. The Lizards
4. Axilla (Part II)
5. Runaway Jim
6. Strange Design
7. Hello My Baby
8. Mike's Song

Disc 3
1. Phish Gamehendge Time Phactory
2. Auld Lang Syne
3. Weekapaug Groove
4. Sea And Sand
5. You Enjoy Myself
6. Sanity
7. Frankenstein
8. Johnny B. Goode